We invite all Triple-M owners and followers to join us at our race events through the season. Show casing what our wonderful cars can do and what they were intended to do! Whether you are out on track with us or just enjoying the spectacle, everyone is welcome to what is a very special fraternity of passionate Triple-M enthusiasts. In 2013 it all went very quiet, but since then the girds have been growing and the engines roaring. Triple-M Racing is now back where it should be and thriving!
We are very fortunate to have the wonderful support of our Title Sponsor Baynton Jones Historic Motorsport and all our race partners. We could not do it without you! For more information, please click to our page for: SPONSOR and PARTNERS
Keep an eye out for updates through the forum and on Facebook. Or contact us and we can include you on the email circulations. If you have any questions do not hesitate to contact us!
Thanks
Duncan Potter
Race Coordinator
potterduncan@gmail.com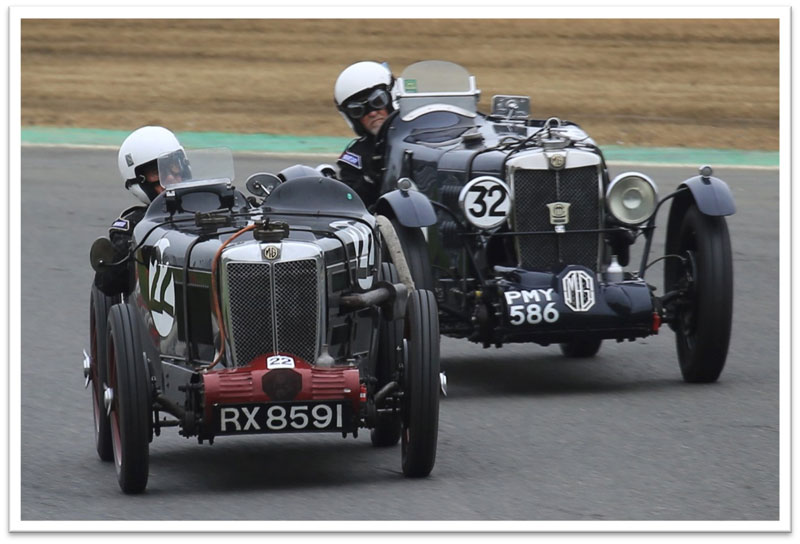 Barry Foster Q and Dave Cooksey C, Battle it out for the 2018 Mary Harris Trophy. ( Photo Colin Murrell)

| | | |
| --- | --- | --- |
| 10/07/2021 | VSCC Oulton Park | |
| | | |
| --- | --- | --- |
| 18/07/2021 | MGCC Donington Park | Triple-M Challenge |
| | | |
| --- | --- | --- |
| 22/08/2021 | VSCC Mallory Park | |
| | | |
| --- | --- | --- |
| 02/10/2021 | Castle Combe Autumn Classic | VSCC Race |
MGCC Racing
Club members share your enthusiasm for MG cars of every type and generation and the MGCC offers a wonderful selection of meetings for racing and speed events. We run the Mary Harris Trophy at MGCC Brands and also have an all Triple-M Race at MGCC Donginton. MGCC
VSCC Racing
We are very lucky to have a great relationship with the VSCC. The VSCC host a number of race meetings throughout the year, and you will find Triple-M Racers out and about at every event. The VSCC also host the MG Race for the Register at Cadwell Park. VSCC
Preparing to Race!
Any event on a race track, requires a Race Licence. Depending on the event differing Race Licence standards will be required. You must first apply to Motorsport UK. www.motorsportuk.org
Novice (new) racing drivers will be obliged to undergo a half day training course at one of the Association of Racing Drivers' Schools (ARDS) before they can obtain a race license. These are run at most of the circuits, when you pass you will have a Race Licence and can enter most all of our listed race meetings. Then its just a case of preparing you and the car with the necessary equipment and standards.
Preparing your car…for starters…
Fire extinguishers are mandatory. These must be a minimum of 1.75 litres of AFFF
Oil Catch Tank 2ltr
Water Catch Tank 1ltr
High Visability Rain Light
Tow points marked front and rear
Oil Sump plugs wired
Ignition Cut out marked
Batteries secure and enclosed
Yellow & Black Cross for Novices
Orange Dayglow discs for non pump fuel
Noise restrictions, most events are 105db
If in doubt just ask, then just come Racing!
The History of the Triple-M Mary Harris Trophy
The Mary Harris Trophy was presented by Mary Harris to the SE Centre of MGCC in memory of her late husband, F.L.M.Harris, who had run the Club in the immediate pre-war years, but who had died during the war, believed to be during an air-raid. F.L.M. was quite a character, and one of the few who had achieved a "Triple" in the MCC Classic Trials on two, three and four wheels in one year! He was also a keen caravanner, editing, in addition to "Sports Car" the caravan magazine.
The trophy was never awarded, but when we (the Triple-M Register) had our first race at Silverstone in 1963, It was suggested to Gordon Cobban by Mike Allison that we would like a trophy to race for, and he offered the Mary-Harris, which was duly presented to the Register in a ceremony by Elsie C at the Kensington Palace Hotel dinner. The first winner was Bruce Beer in his brother, Malcolm's J3 single-seater, J 3751.
The race was originally run on a handicap basis as per the original format of the Brooklands era with the slower cars taking off first. This format is still run at all VSCC events, creating fantastic racing where in principle all cars finish at the same time!. However in recent years and for the MGCC races the Handicap is run under a closed format based on practise times. So in principle the race will be a Scratch race with the outright winner taking the Kimber Trophy. The handicappers will work their magic post race and announce the winner of the Mary Harris Trophy.
Throughout the season all our efforts are recorded under the Championship for the Betty Haig Cup, Championship standings can be found on this site's menu, Under "Championships"